Curricular Practical Training (CPT)
Curricular Practical Training (CPT) is a temporary authorization that allows international students with an F-1 Visa to gain practical experience directly related to their major through employment, paid or unpaid internships. Students must register for a CPT-related course and be authorized by OIE prior to the start of any internship or academic learning experience. To receive authorization, CPT experiences must be directly related to a student's level and major field of study. The internship positions must be authorized by the ESU Office of International Education (OIE).
Eligibility Criteria
To be eligible for CPT, you must:
Have been lawfully enrolled on a full-time basis for at least a full academic year.
Note: An exception exists for students in graduate studies whose programs require earlier training.
Be in lawful F-1 status
Have ESU approved health insurance
Have a job offer
Not be enrolled in an intensive English language training program
Duration of Employment​
Employment authorization may be given on a semester-by-semester or summer basis, depending on the academic department
CPT may be extended or renewed with advance approval
Generally, students are only allowed to part-time CPT (20 hours or less per week) during the Fall/Spring semesters and full-time(21-) CPT during the summer.
Students must continue to maintain a full-time academic course load during the period of employment
Processing Time
We suggest students begin looking for internships approximately six months in advance of their start date.
The Office of International Education will need up to two weeks to process the CPT request.
CPT application overview: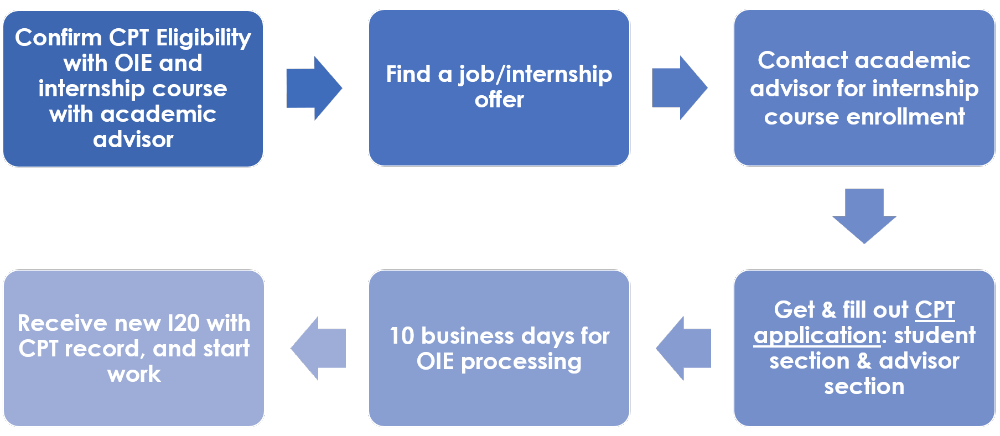 CPT PowerPoint can be downloaded here:
CPT Presentation
CPT Application can be downloaded here:
CPT App Form.pdf
Once you have determined your eligibility for CPT, to learn the CPT application process and complete the CPT request:
Note: If you have already started a request, do not start a new request. Please go to your
User Home Page
to continue working on your request.